Welcome to the
George S. and Dolores Doré Eccles Foundation
website.
While our site is currently under construction, please follow the instructions below to inquire about submitting an application.
Apply for a Grant
Click here for instructions to log on to our Foundation's online portal. Once in the portal, complete and submit a Letter of Inquiry form.
Contact the Foundation
Mailing address:
George S. and Dolores Doré Eccles Foundation
79 S. Main Street, 14th Floor
Salt Lake City, Utah 84111
Phone & Email:
Main: 801-246-5340,
General Information: Maggie Montague, 801-246-5351,
Office of Lisa Eccles, President & COO: Erin Armstrong, 801-246-5348,
Communications: Toni Lehtinen, 801-246-5347,
Fax: 801-350-3510
60th Anniversary Report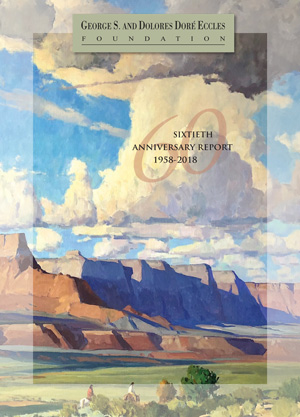 The Foundation recently released its 60th Anniversary Report celebrating the anniversary of our founding in 1958 and the impact of our partnerships with statewide nonprofits to benefit the people of Utah.
Painting Credit: Fresh Air on the Vermilions by G. Russell Case, 2012; oil on canvas, 48" x 60"